DAY 2 OF NEPC 5TH PRIMARY COLORS OF EDUCATION CONFERENCE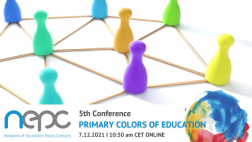 In the last decade, NEPC has been committed to building transnational and multistakeholder partnerships to support national voices and bring regional issues to the international arena. These partnerships are often a platform for sharing experiences and knowledge that may enrich the national debates about education. The first panel of the second day of Primary Colors of Education online conference (Tuesday, 7th of December) will discuss the role of three different yet complementary policy networks and how they contribute to participation in the policy process.
The discussion about the need to re-think the role of education has been ongoing for a while but more intensively since the pandemic. This might be considered as a sign for an alarm and the need for the urgent changes in education. The meaningful changes of the education system require the discussion about the philosophy beyond the education system. The last panel of the conference opens a window on the future through two earth-centric philosophies – ecological justice and degrowth.
PROGRAMME
REGISTRATION LINK: https://forms.gle/rRdmnVhDKNs2QRph8
7.12.2021 I 10:30-11:30 am CET
Mialy Dermish, SIRIUS Policy Network on Migrant Education
Lana Jurko, Network of Education Policy Centers
Eszter Salamon, European Education Policy Network
Moderator: Ulviyya Mikailova
Education Policy Networks – Who needs them and why?
In the past twenty years numerous informal and formal education policy networks were set up with the idea that synergising findings, exploring different policy options, forming common recommendations and common advocacy actions will move education policies forward. The three networks: SIRIUS – Policy Network on Migrant Education, European Education Policy Network and Network of Education Policy Center that will be presented in the session have different histories, scopes, policy goals, types of activities, membership profiles yet share some goals and some members. The presentation of their experiences hopes to provide a place for rethinking the roles of networks. The panel will unpack the roles of policy networks in international and national policy development and discuss their roles in supporting and preserving the participative policy process.
7.12.2021 I 12:30 – 13:30 am CET
Mladen Domazet, Institute for Political Ecology I Croatia
Burcu Meltem Arık Akyüz, Education Reform Initiative I Turkey
Moderator: Andrea Soldo
How can education contribute to harmonious life on the damaged planet?
Education has a crucial role in the urgent green transition demanded by the current environmental crisis. The necessary radical changes to be systemic must refer to a philosophical framework. This panel will discuss ecological justice and degrowth as earth centric philosophies built on a critique to economic growth and their possible applications in education.
7.12.2021 I 13:30
Closing
REGISTRATION LINK: https://forms.gle/rRdmnVhDKNs2QRph8
Platform: GoToMeeting
Questions and Information: nepc@edupolicy.net